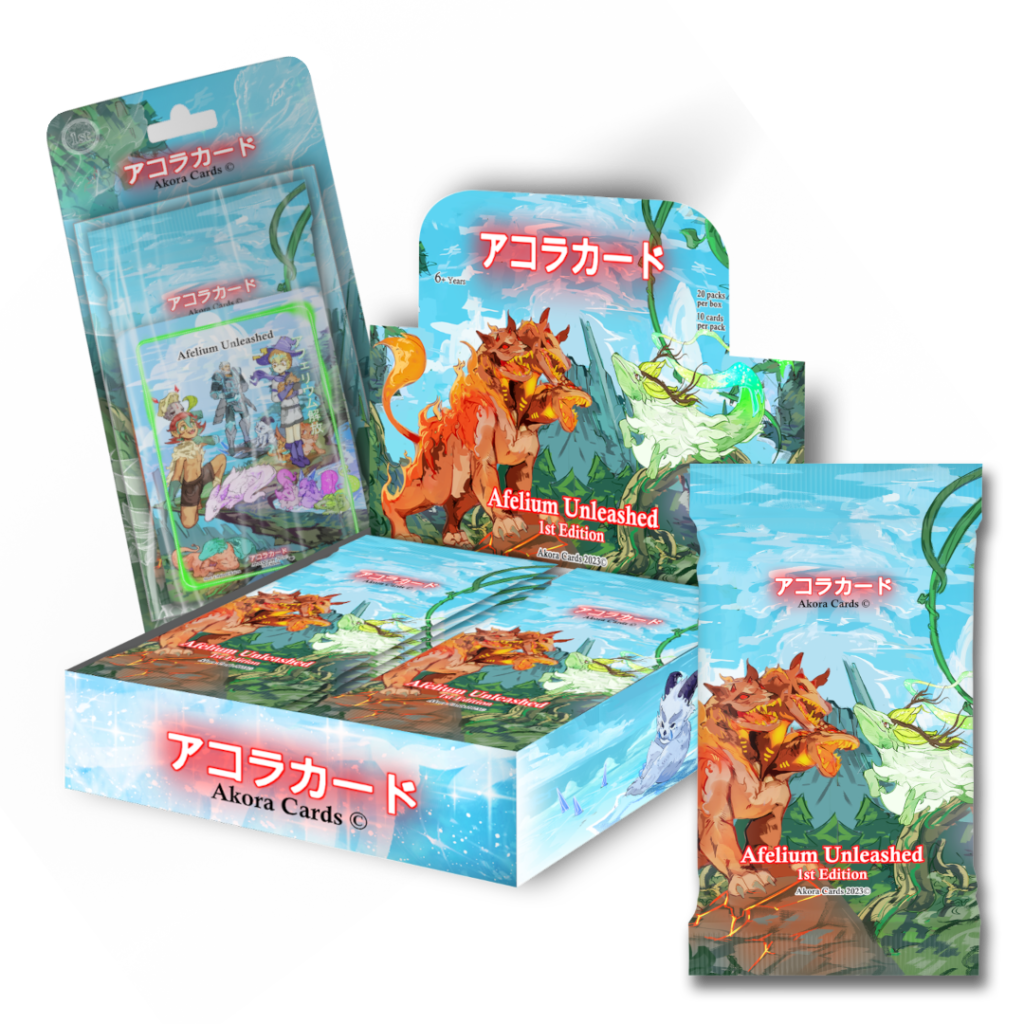 Street Date: February 24, 2023
Print Run: 5,000 Units
Akora TCG is excited to announce the official street date for our brand new core set, Afelium Unleashed! In this entry, we will walk you through all of the exciting updates and new features that Afelium has in store. Alchemists, we wish you luck on your journey!
---
---
---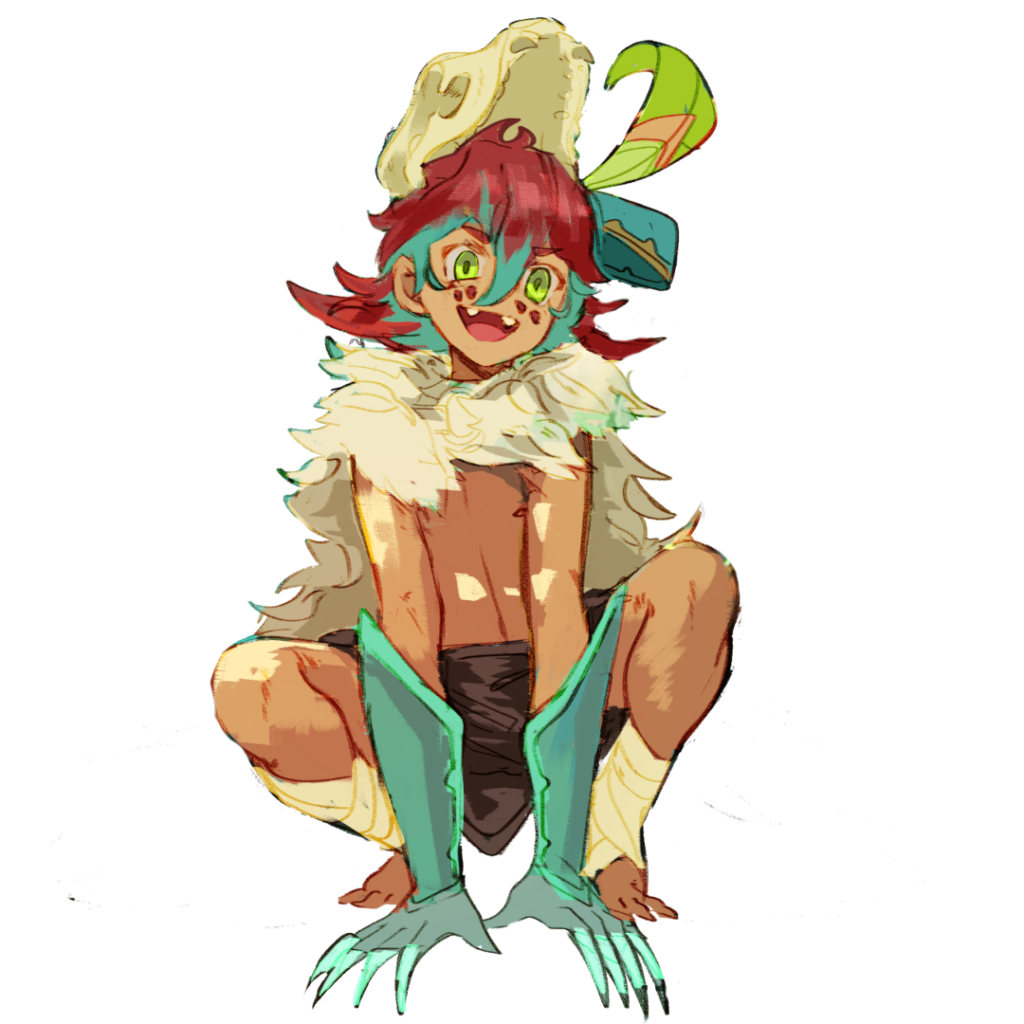 Lore
Alchemists, the time has come to venture into the wild realm of Afelium! A vast landscape of sprawling trees and harsh environments. Whether you are just passing through to see the sights and new Akora, or hope to further your skills in battle, Afelium will truly leave you in awe and inspire you in the way that only Akora knows how. The journey began in Inervia where you saw your first Akora and then you ventured into Vhalkrest where you found warped Akora and new Alchemy. Afelium is a realm with an unruly and untamed attitude! A place full of wonder and adventure, this realm is the perfect setting for the only prison in Ikithia. The powerful and wild Akora mean that any traveller must keep their wits about them if they want to make it through Afelium in one piece. No one has ever escaped the prison in Hark city; will you be the first? Will you find the legendary fire beast that has been unleashed upon the lands? Or maybe you will encounter one of the awakened Ceruns, who after centuries of slumber, have chosen now to reawaken. Whatever path you take through Afelium with your bound Akora, remember that the world of Ikithia is vast and the lessons of today will shape the victories of tomorrow!
---
---
---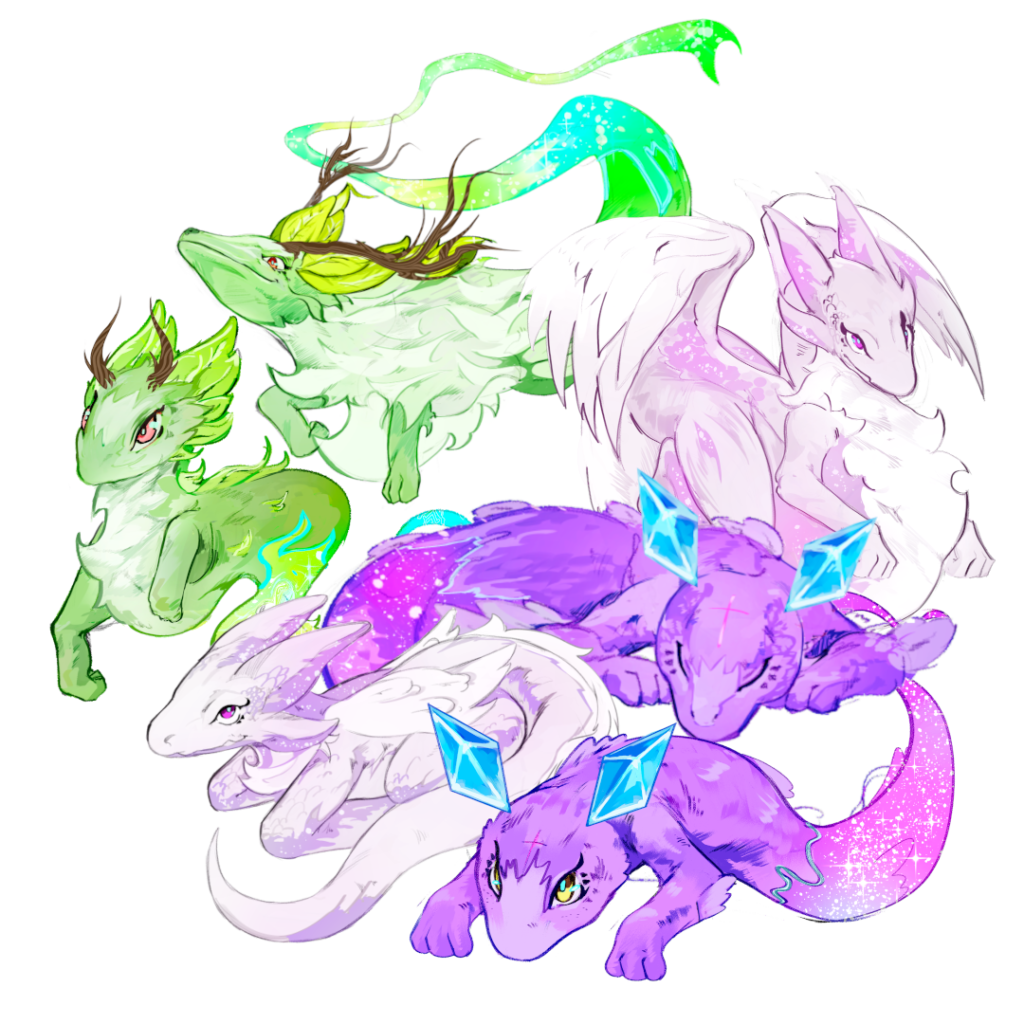 Ceruns
In the most remote areas of Afelium something has awoken…. Centuries have past and the majestic Ceruns are all but legends to the Akora of Ikithia. Why now? What has caused these ancient guardians of the elements to awaken? Could it be that a great threat now grows close? Ceruns are ancient Akora who embody the very attribute that they are infused with. Powerful Akora who serve to protect and preserve the lands they inhabit, Ceruns are majestic and proud of their embodiment of natural power. If you have no ill intentions to the lands of Ikithia you have nothing to fear, but for those who seek to commit evil acts the Ceruns will seek to put an end to your plans. It is said that to encounter a Cerun an Alchemist must master their Alchemy Essence and be at one with their partner Akora. Your luck is in adventurer, for the Ceruns have awakened and now is your chance to find them all!
---
---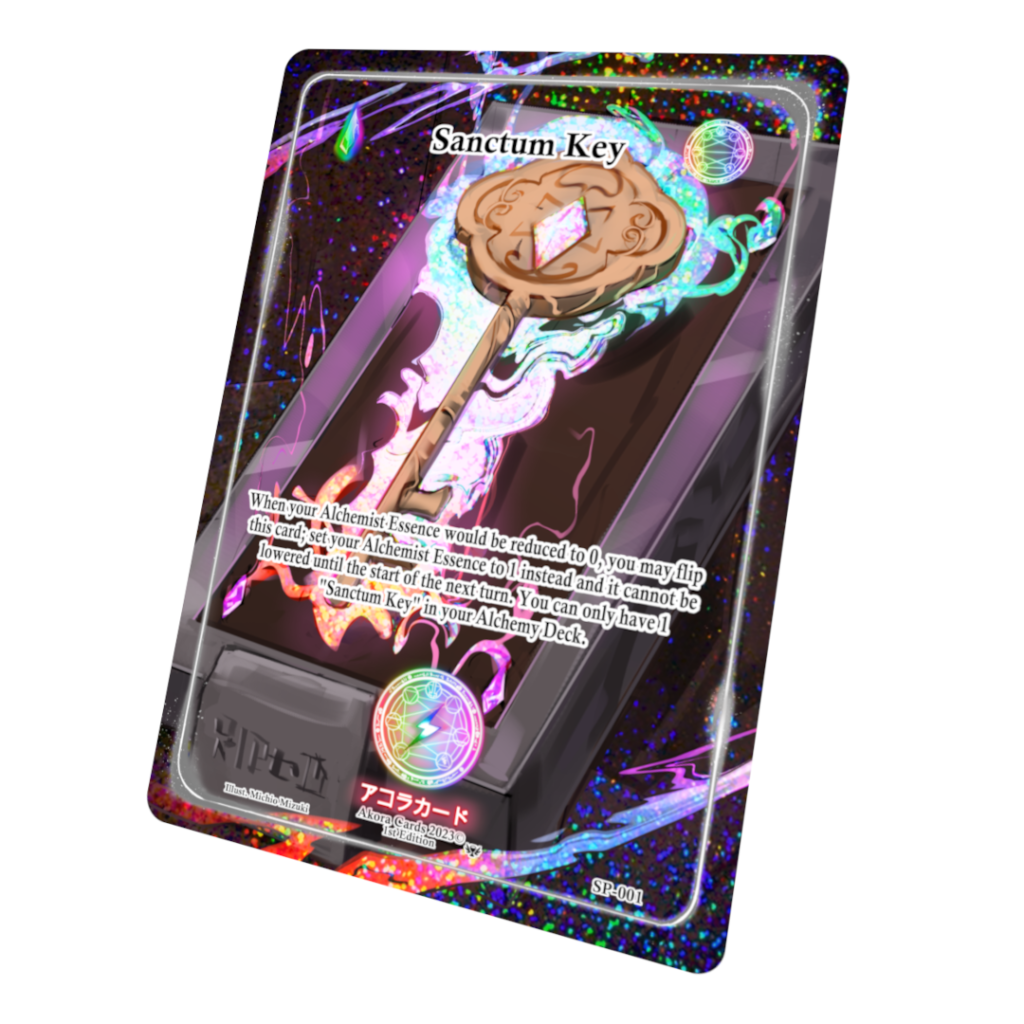 LGS Exclusives
Afelium Unleashed features Akora TCGs very first local game store exclusive promo card, which is also the debut of the full art alchemy rarity! Sanctum Key arrives in style as a reward for any Alchemists that purchase an Afelium Unleashed booster box from their local game store. Aside from its incredible design, Sanctum Key has a unique mechanical effect only found on this card, which may be the difference of success or failure in battle! Akora TCG will continue to support our network of stores and we encourage Alchemists all over the world to seek and support their local game stores.
---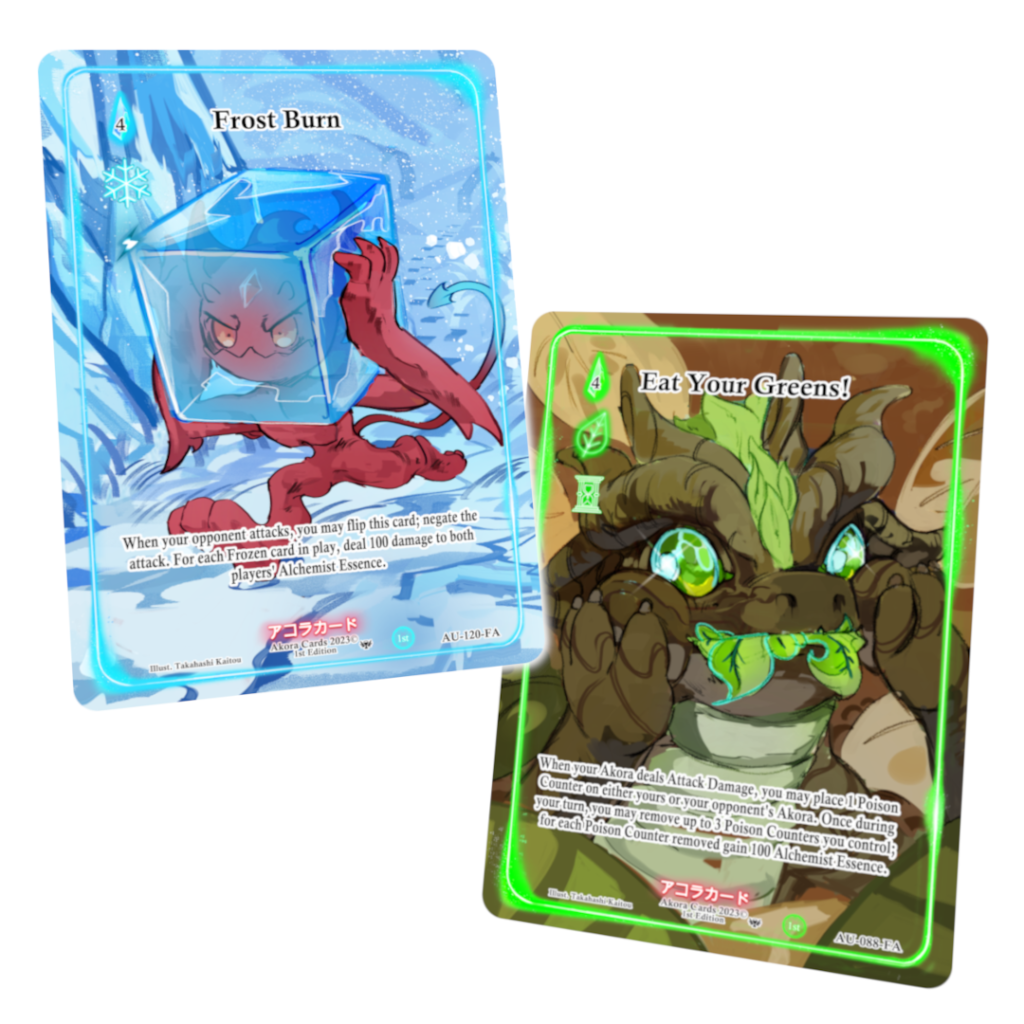 Gameplay
Akora Effects
Afelium Unleashed introduces a brand new layer of gameplay strategy as well as bringing deck building to a new whole level. Featuring brand new Akora effects, these powerful additions to Akora TCG will allow you to gain an upper hand based on the conditions of the game. Just be mindful of your Akora's Relic Requirement when activating their effects!
Full Art Alchemy
For the very first time, Alchemists will now be able to enjoy the beauty of alchemy cards in a brand new form! Full art alchemy cards will be sure to take the aesthetic charm of your deck to the next level and will provide an exciting new chase for collectors. The mechanics of these cards will be identical to their original rarity forms, but the alternative large scale artworks will surely have you adventuring to find them! These special cards will have similar shared odds/pull rates as full art Akora and will bring an exciting new feel of diversity to the box opening experience!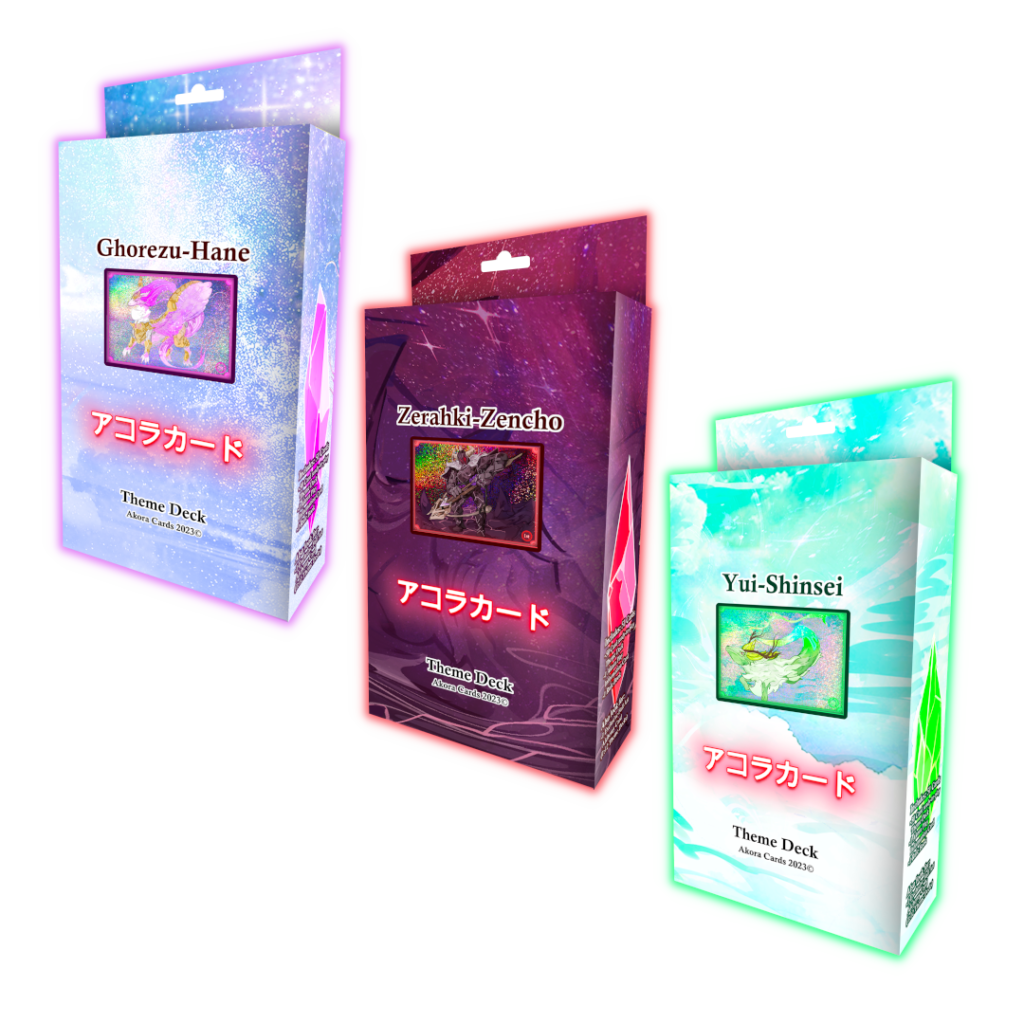 Theme Decks
Afelium Unleashed is accompanied by a brand new array of theme decks for players to pick up and play! Not only is this a great way to prepare you for battle, but these decks also feature a full chain of exclusive holographic Akora, for the first time ever! And in case this wasnt already exciting enough, we have decided to add in a brand new chase card to theme decks! Afelium Unleashed will be debuting the very first exclusive full art alchemy card, available only in theme decks! This is a special bonus chase for Alchemists who purchase theme decks (specific odds will be stated on the theme deck boxes). This offering is simply meant to be a special reward for those Alchemist who are lucky enough to find one, and will surely be a beautiful addition to your decks! Good luck!
– DARK
Don't lose yourself in the darkness of purgatory! The dark alchemy within Afelium allows for more draw power and double the attack power!
– NATURE
Become one with nature! The nature alchemy in Afelium is refreshing and well rooted and allows Alchemists to replenish your enemies soul points and gain Alchemist Essence in different unique ways!
– DIVINE
Welcome to the path of divine enlightenment! Divine introduces a new Akora type within its attribute allowing for more diverse perspectives of gameplay. With the divine alchemy in Afelium, divine counters introduce more ways of impacting your opponent and propelling yourself to victory!
---
Set Details
• 18 Full Art Rares
• 18 Generational Rares
• 66 Holographic Cards
• 154 Mechanically Unique Cards
• 16 Stage 2 Holographic Box Toppers
• 1 Exclusive Manga Art Card Box Topper
• 1 Extended Art Card Serialized Box Topper
• 2 New Alternate Full Arts Serialized Cards
• 2 Extended Art Serialized Cards
• Ancient & Secret Rare Cards; Limited to 5 copies!