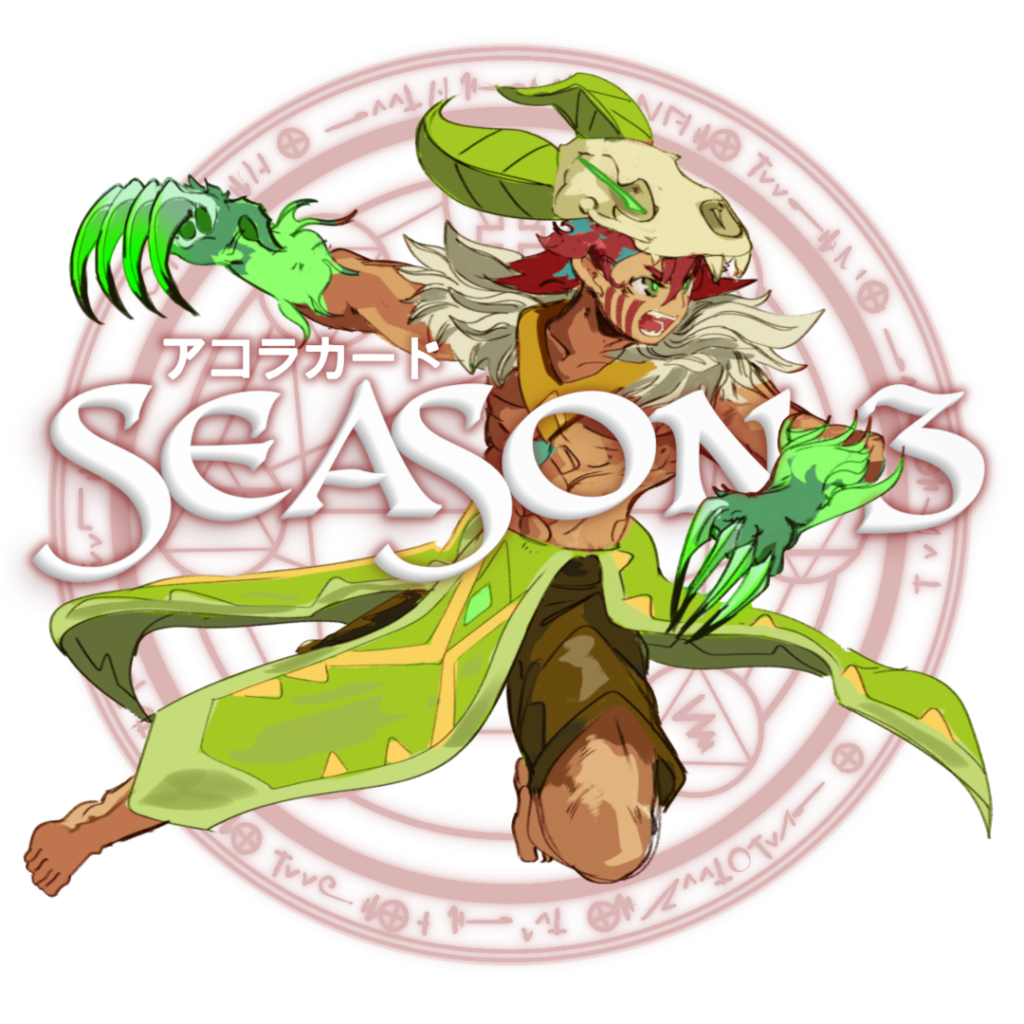 Players will now be able to access and track their seasonal rankings and performance on Akora Play. This is a separate ranking system designed specifically to track seasonal progress and will reward players for participation and scale with their success! As we continue to build and develop Akora Play, players and stores can expect seasonal play to start on release date for each new set! This is an incredible opportunity to bring players together, explore the new realm, and compete for some of the most unique prize cards that Akora has to offer! Who has what it takes to uncover the most elusive Akora in Afelium?
---
---
---
Scheduling Events
Local game stores can register today to start scheduling events and all existing stores will be able to host and promote their events as well! All competitive events during season 3 will allow players to earn Alchemist Essence in their race to unlock seasonal rewards! Simply organize your local or online event through Akora Play to participate. Stores who participate in official seasonal play will be highlighted on Akora Play, on our store locator, and will unlock benefits including access to pre-release kits, tournament kits, and more in the future! Not only is this a great way to incentivize play at your stores and reward players, but will also unlock additional resources and opportunities for the store itself!
---
---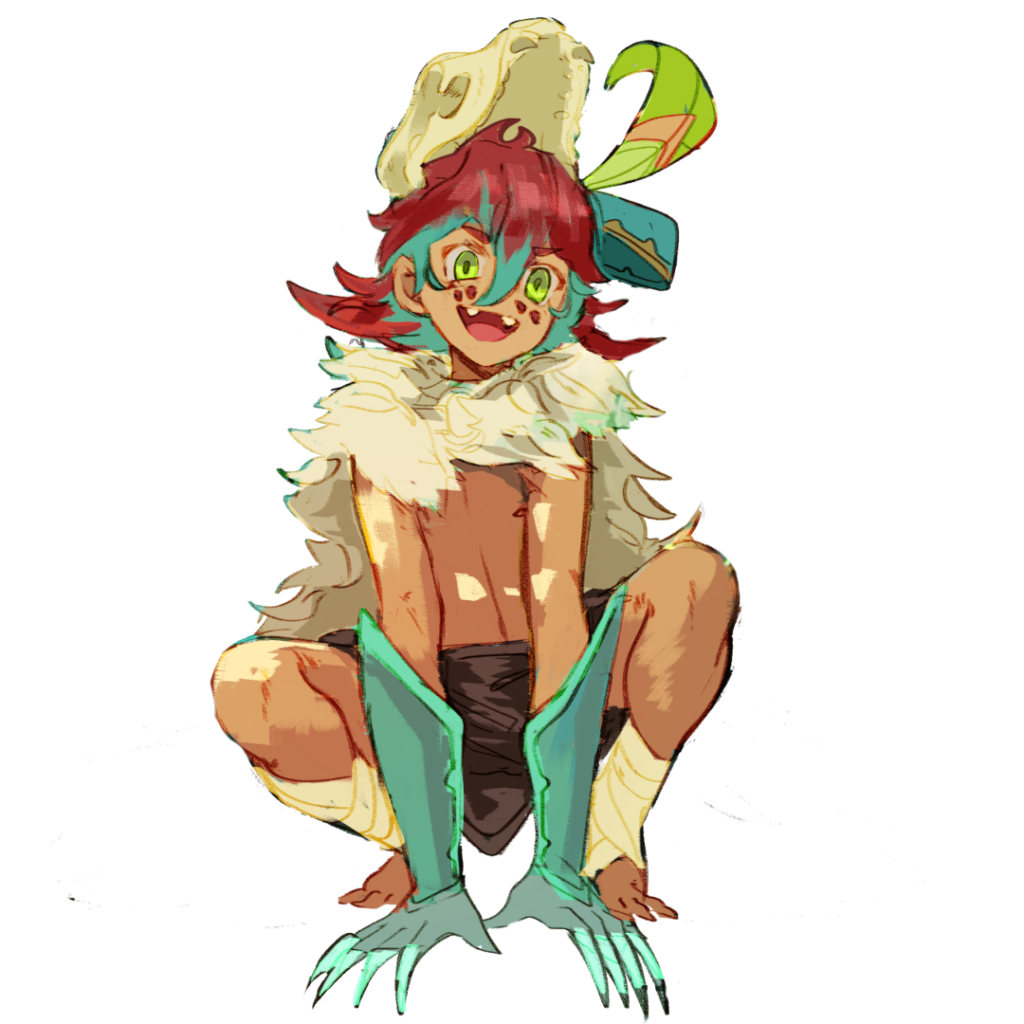 Player Rewards
1st Place: x1 NEW never-before-seen Akora line playset (Full Art – Stamped)
2nd Place: x1 NEW never-before-seen Akora line playset (Extended Art – Stamped)
3rd Place: x1 NEW never-before-seen Akora line playset (Holo – Stamped)
Top 16: x1 NEW never-before-seen Akora line playset (Non Holo – Stamped)

Artwork to be revealed at a later date
---
---
Alchemist Essence Breakdown
In order to receive Alchemist Essence, you must participate and play in local and online events! See below for a breakdown on Alchemist Essence. Event Participation:10 Alchemist Essence Match Played:5 Alchemist Essence Match Won:10 Alchemist Essence Top Cut in Event:25 Alchemist Essence 3rd Place in Event:25 Alchemist Essence 2nd Place in Event:50 Alchemist Essence 1st Place in Event:100 Alchemist Essence When do Alchemist Essence stop accruing? Alchemist Essence for this season stops accruing on May 21st, 2023 at midnight PST. After this time, a Champion will be determined for the season based on the total Alchemist Essence and season rewards will be fulfilled shortly after!
---
Where To Find Seasonal Rankings
Currently, you can travel to the "RANKINGS" section of Akora Play, select the dropdown menu to the right of the RANKINGS header, and choose "Seasons". This will showcase and explain all of the details related to the season schedule, prizing, alchemist essence insight, and more! Currently, both sealed and pre-constructed formats will count towards players Alchemist Esssence. This will be tested during this pilot season and adapted based on store and player feedback if necessary.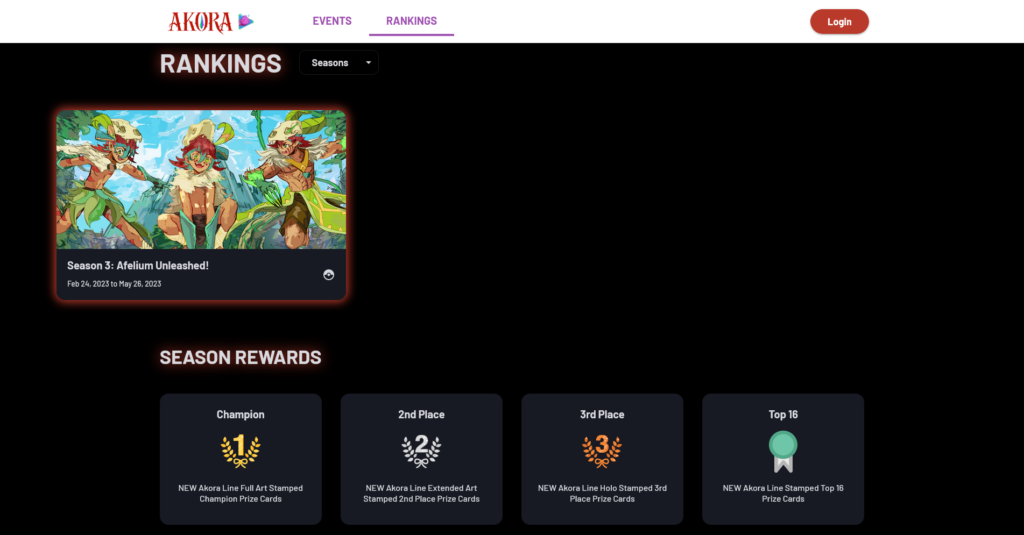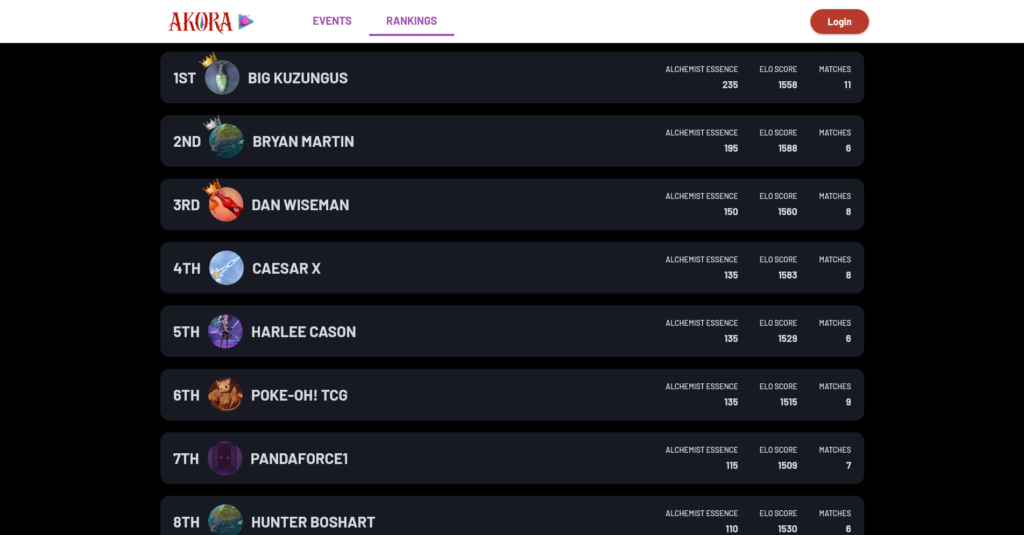 Developer Notes
As Akora Play continues to grow, we are constantly improving, introducing new features, and optimizing our system to best suit our community of stores and players. This season is considered a pilot but will provide a clear and functioning baseline for what it looks and feels like to participate in a competetive Akora TCG season! We hope you all enjoy this roll out and we are looking forward to building along side you!
---