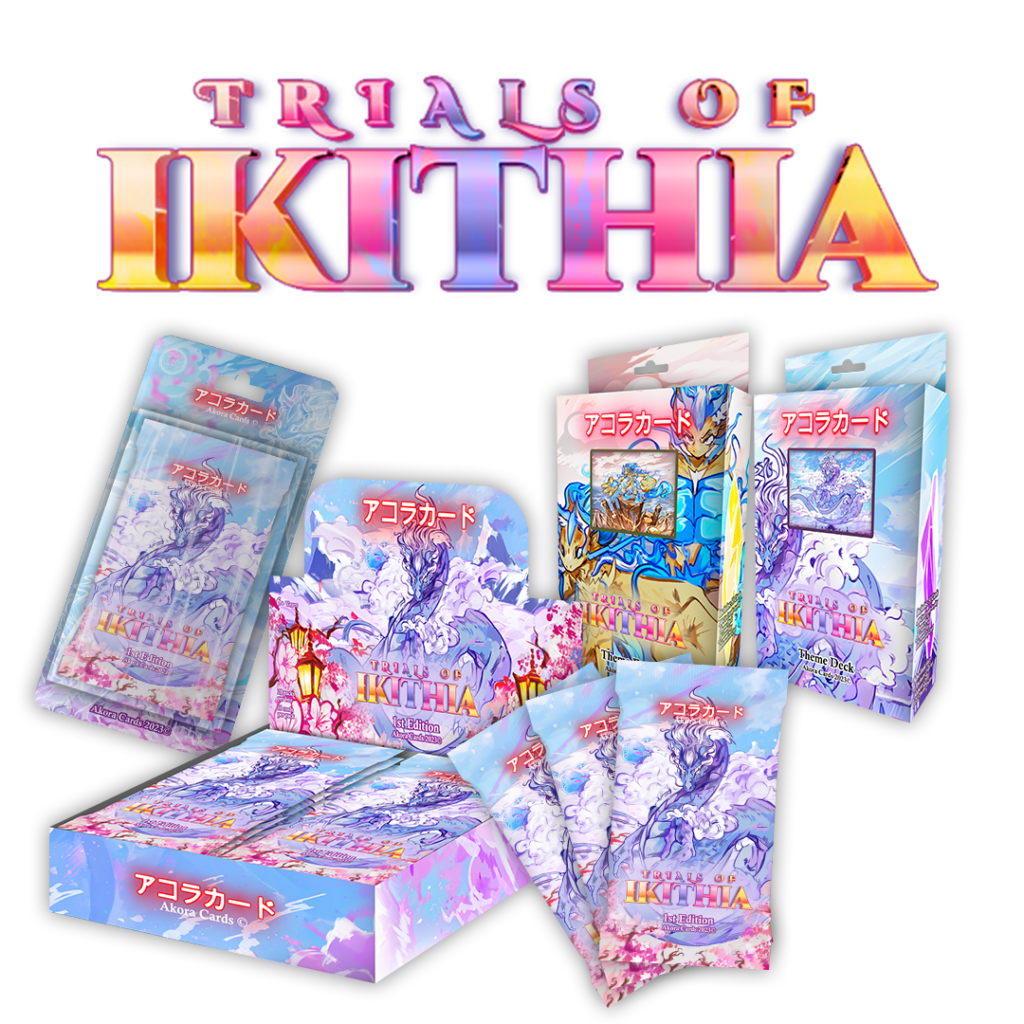 Street Date: August 31st, 2023
Print Run: 5,000 Units
Centuries ago, a powerful mage by the name of Tekina, devised a strategy to assemble an elite force, now known as the Alchemy Crusaders, to protect all realms of Ikithia. As a result, a series of difficult trials have been created in an effort to purge the weak and give rise to the most talented Alchemists from across the world. You have fared well on your journey thus far, Alchemist, but do you have what it takes to overcome the legendary Trials of Ikithia?
Trials of Ikithia will feature a range of exciting new product offerings including booster boxes, theme decks, blister packs, and playmats! As you begin your journey into the realm of Tesuto, you will encounter 11 brand new Akora along with some other familiar faces. Players and collectors will be greeted by fantastic artwork created by your favorite Akora artists from the past, as well as receiving an introduction to two new artists on our team! We are also excited to announce the rollout of a brand new character rare relic shard chase that will showcase beautiful renditions of our staple resources, including some of your favorite Akora! A perfect combination to enhance the look of your decks or simply collect and enjoy!
---
---
---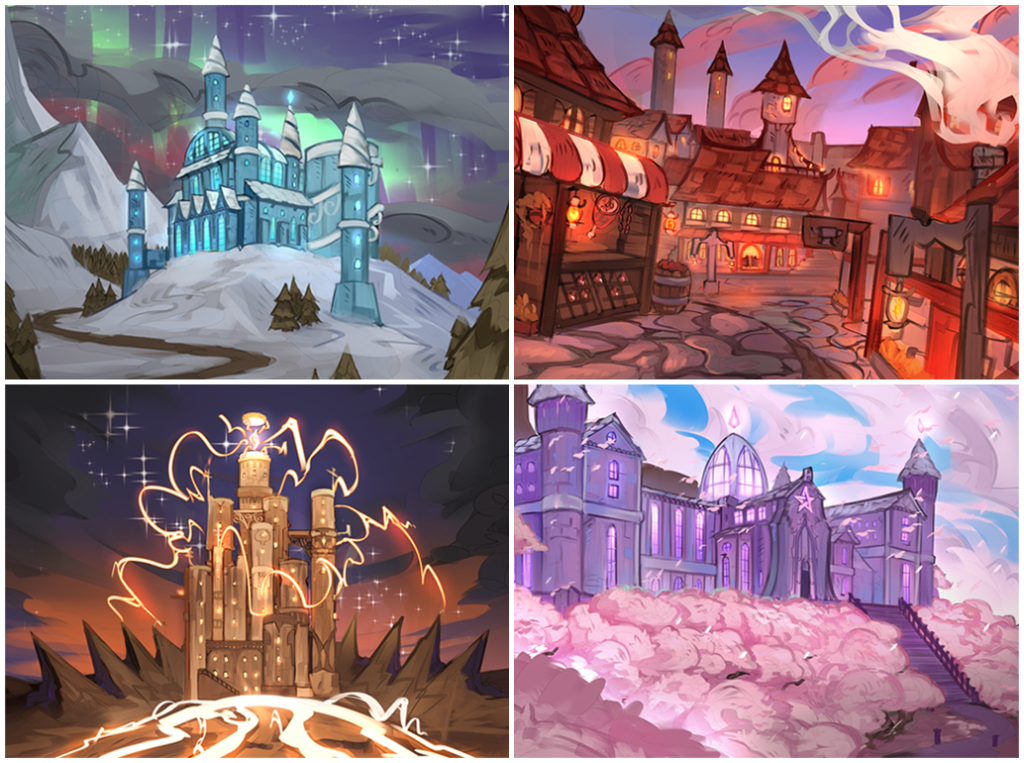 Lore
Many Alchemists of note and potential would travel to the realm of Tesuto in the hopes of advancing their skills and becoming an Alchemy Crusader. Why this realm? What makes it so special? Well, that comes from its central positioning of this realm within Ikithia, and the enhanced Alchemy Essence that infuses the inhabitant's plants and nature of this realm. Alchemy Essence flows like rivers and streams invisible to the average eye with many singular threads flowing through beings across all of Ikithia as they tap into their attribute-specific Alchemy Essence.

In the realm of Tesuto, Akora are generally more powerful, and the landscape is more demanding than any other realm. This means that it is the perfect place to host the Alchemy Crusaders as it provides the most challenging environments for their training and recruitment.

Some Akora have taken it upon themselves to rule areas of Tesuto. These Akora have risen to the top and are recognized as the most powerful of their attribute in the realm. Each one is feared by the Akora in that part of the realm and seen as a ruler of that area. These Akora have different abilities and levels of intelligence. One may be a dragon that has no agenda beyond its primal needs; others may be calculating Alchemists. But one thing is for sure – these Ancient Akora from Tesuto are nothing like what you have experienced before.

The only Alchemists that can move freely through Tesuto are Alchemy Crusaders who have survived the trials laid out by the rulers. Alchemists travel to Tesuto to train and improve their skills…but not all make it out alive.
---
---
---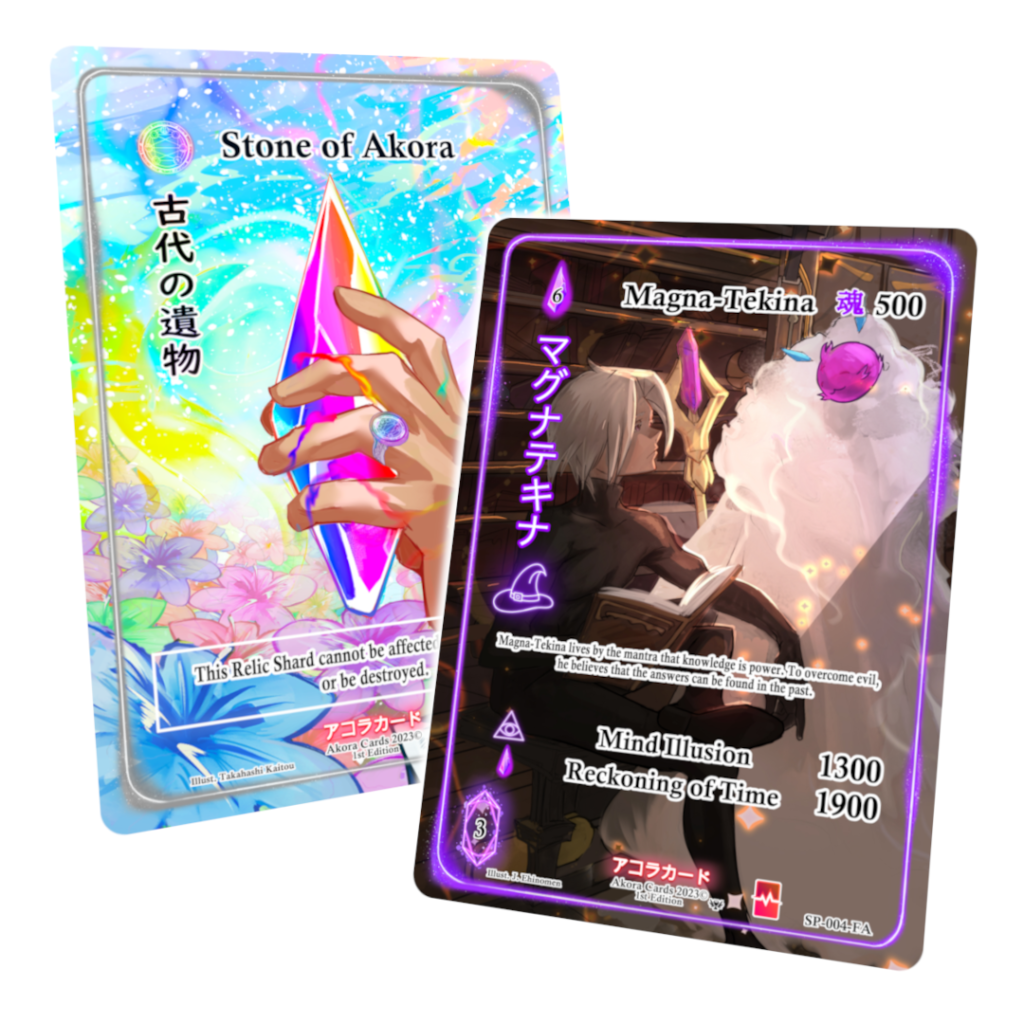 LGS Exclusives
We are excited to continue our tradition of providing LGS exclusive incentives to help support and reward our partners and community! All local game stores who order Trials of Ikithia through our official distribution partners will receive a special "Stone of Akora" promotional card inside of every box to offer to their community of Alchemists!
We are also celebrating a brand new distribution partnership and opportunity for stores to order directly through Akora Play. This will improve access to core product for stores who are not already a part of our existing distribution network. As an added bonus, we have decided to create and share an additional promotional card exclusively obtainable through Akora Play! Any booster boxes purchased through Akora Play will include a stunning "Magna-Tekina" card inside!
---
---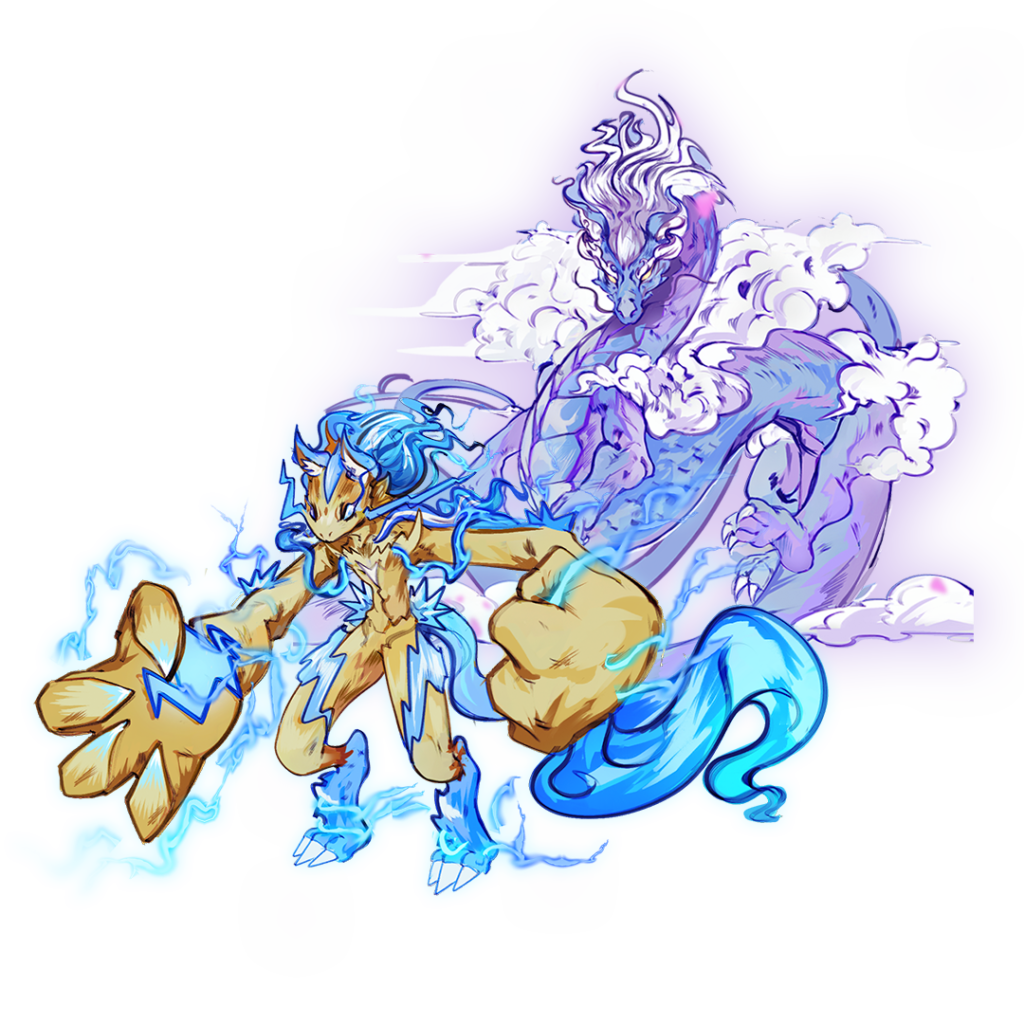 Gameplay
Get ready to enter the Trials of Ikithia!
Exciting new developments in gameplay will revolutionize the way players strategize, battle, and build their decks! Featuring 7 remastered versions of community favorite Akora chains, this set will provide a great balance of gameplay and collectibility! New rarities, including alternate art character relic shards will give players and collectors a first look at some of the most important characters in Ikithia.
As in previous sets, core set packs will continue to include 2 Relic Shards per pack, helping Alchemists to make sure they have the resources needed to build their decks.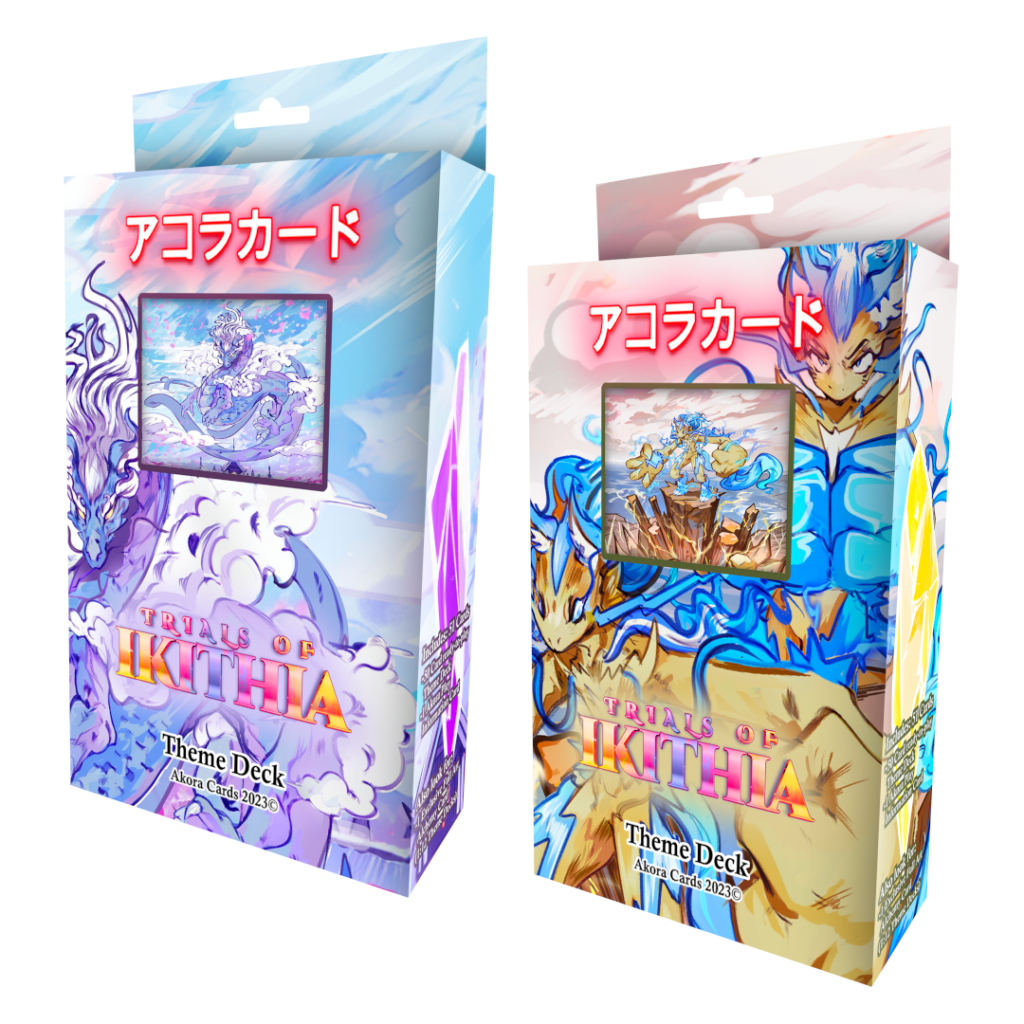 Theme Decks
Trials of Ikithia also features 2 brand new theme decks and a theme deck exclusive chase card to reward Alchemists with beautiful and captivating playable cards that are sure to take your decks to the next level! We're excited to highlight two unique attributes for Trials of Ikithia!
– SPIRIT
The Spirit-Attribute will continue to utilize Spirit Tokens in your Dark Zone and your Purgatory. Explore more ways to utilize Spirit Tokens while in play and harness the ability to control other Spirit Tokens on the field!
– ELECTRIC
Electric will steer into a new direction and create an opportunity for a brand new style of play with the introduction of Shock Damage and Shock Counters! This will allow Alchemists to explore and develop unique strategies while also complementing existing electric card effects from previous sets.
---
Set Details
• 11 NEW Akora Chains
• 7 REMASTERED Akora Chains
• 18 Full Art Akora
• 18 Full Art Alchemy
• 55 Holographic Akora/Alchemy Cards
• 9 Textured Holo Relic Shards
• 154 Mechanically Unique Cards
• 1 Serialized Box Topper Chase Card
• 18 Exclusive Stage 1 Holo Box Toppers
• 54 Extended Art Akora
• 1 Exclusive Manga Art Card Box Topper
• 9 Serialized Alternate Art Character Relic Shards
• Ancient & Secret Rare Cards – Limited to 5 copies each