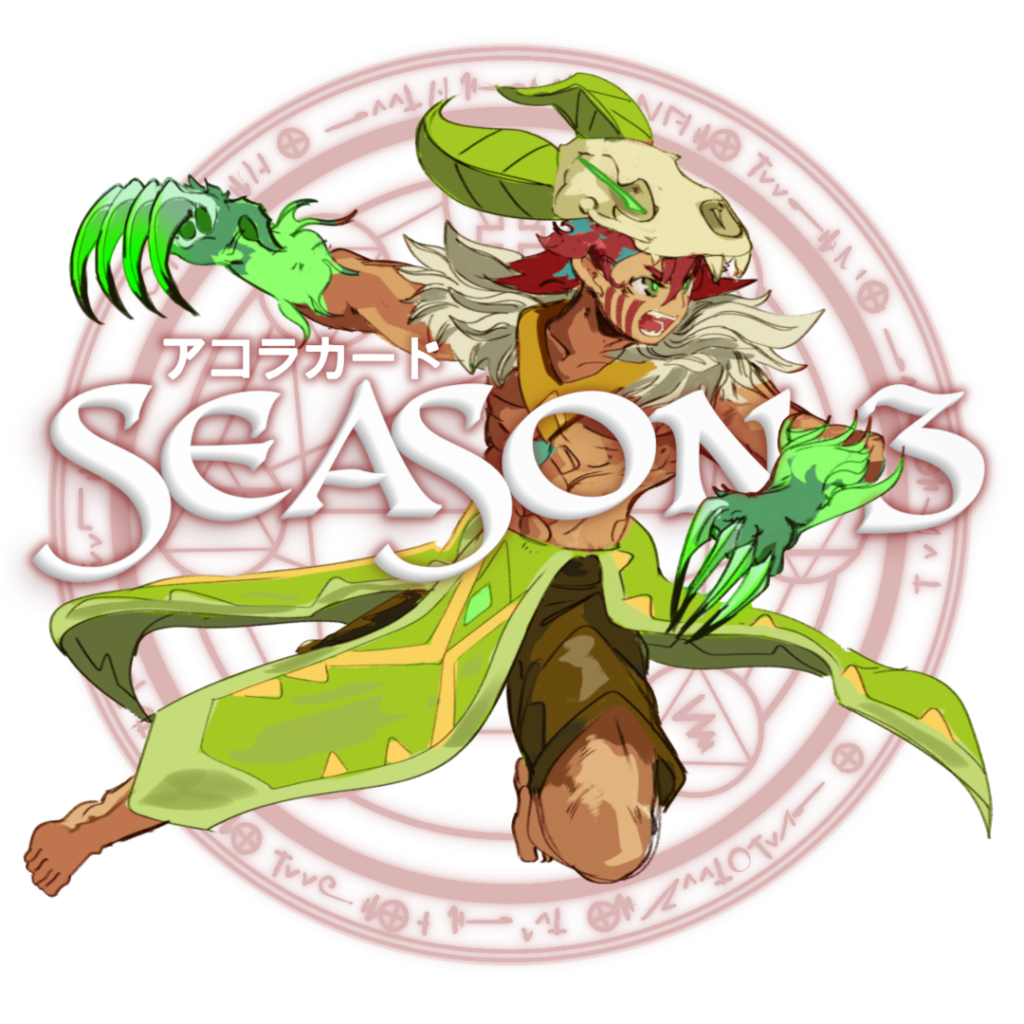 Congratulations to all of the Alchemists who participated in Akora Play – Season 3: Afelium Unleashed!
---
On behalf of the entire Akora TCG team we would like to extend our gratitude to all of the incredible Alchemists and local game stores who participated in our very first Akora Play competitive season! With over 100 active players and 60+ participating local games stores, we are extremely proud of the Akora community! The growth we have experienced over the past 3 months has been phenomenal and we look forward to many more wonderful seasons ahead!
Akora Play – Season 3: Top Ranked Alchemists
We are proud to announce the Top 3 Alchemists of this season, who harnessed their Alchemist Essence as they battled opponents from across the realm to unlock the hidden secrets deep within the heart of Afelium!
---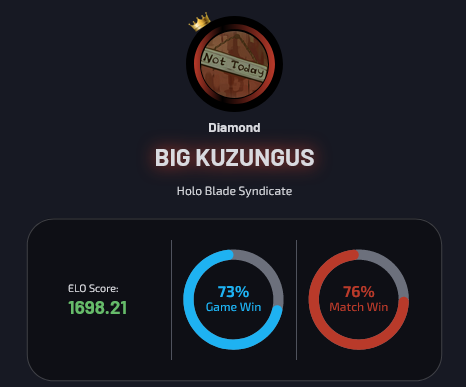 Player Name: Big Kuzungus
Season 3 Rank: #1
Favorite Attribute: Warped
Favorite Akora: Warped Zerah
Favorite Card: Warped Ocean Cry
This competitive season I had too many great Akora memories.
In the middle of the season, it was hard to find any shops hosting play events. One day I woke up and saw an event being hosted over 4 hours away, so the competitor inside of me drove over an 8-hour round trip to one of the greatest shops, S.E.T.S in Tifton, GA. Stich, the legendary shop owner and Akora lover welcomed me with open arms, passing me around the shop like a celebrity, introducing me to everyone with this line, "This is the number one Akora player in the world, he drove all the way up from Florida to play with us today!". The people were so nice and the competition was so great that I would find myself making a second trip to his shop, where I had my greatest experience of the season.
Stich had recruited 3-4 younger kids to play Akora in this Tournament. At first, I thought he was joking when he pointed them out and told me that they were coming for my number 1 spot. I had the privilege of playing some of them during the tournament and friendly matches, and I will say I was genuinely impressed by the level of understanding they all had of the game and how skilled they were. I actually faced off against CJ (who is 10 years old by the way), in the FINALS (you read that right, the FINALS). The best part of that day and the season was seeing the younger crowd not just play Akora, but play Akora well. I would like to shout out CJ, Nathan, Daniel, and Zach! You guys are the future of the game and I hope to have the pleasure of playing you again.
I would like to also extend huge thanks to all the new faces that learned to play Akora as well as Nathan and company at Hyper Collectibles (New Port Richey, FL) for hosting us with the utmost hospitality! If you're local, come out to our locals!
I want to finish by congratulating my fellow competitors and everyone who made the Top 16, I'm excited to see how the leaderboards are shaken up next season as Akora continues to grow and the player base gets more competitive! Extra congratulations to Grace and Nick, you both killed it this season and I'm excited to see some of your new play styles for next season! Thank you both for pushing me to get better every day in both Akora and the real world.
---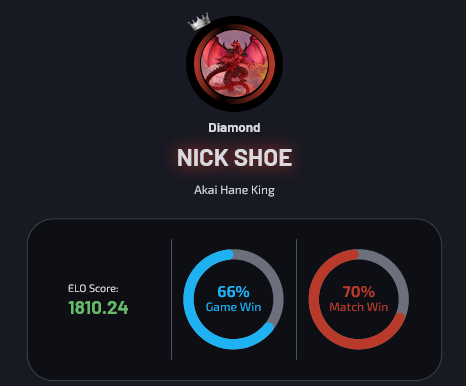 Player Name: Nick Shoe
Season 3 Rank: #2
Favorite Attribute: Fire
Favorite Akora: Akai Hane
Favorite Card: Rain of Fire/Bottled Lava – Hot Sauce Combo
My favorite memory from this season was having my local game shop host their first Akora event and seeing new Alchemists unlock their full potential! Shout out to Hyper Collectibles and the owner, Nathan, for having an open mind to Akora and hosting events! Before playing in person, the majority of the tournaments I participated in were on TTS, so being able to play at my LGS, teach people about Akora, and watch them progressively grow was an awesome experience to be apart of. By the 2nd event that Hyper Collectables hosted, Nathan and a few other new players we recruited started to get the hang of it and pull out some crazy combinations! Next season, they'll be tough competition! You'll definitely be seeing their names more often on the leaderboards!
Huge congratulations to Tyler and Grace for taking 1st and 3rd place. They are tough opponents, especially when you have to play them in person and you know each other's play style!
Congratulations to everyone else who made Top 16!
---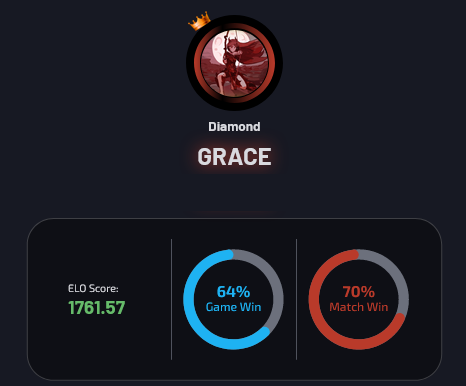 Player Name: Grace
Season 3 Rank: #3
Favorite Attribute: Water (but this changes every day)
Favorite Akora: Unaburu
Favorite Card: Changing the Tide
This season has been full of trials and tribulations, but I have enjoyed every minute. My favorite memories revolve around traveling to our semi-local tournaments at Bearded Browncoat in Ocala, Florida. As a resident of the Tampa Bay Area, the drives up to Ocala for tournaments were usually close to two hours, but once we got there, it was always exciting to be welcomed with open arms and spend time with some great people. This season I won my first tournament at Bearded, and it only went up from there. I realized that if I put some effort in, I could perform well, and I had a chance of making the Top 16, then the Top 8, and THEN the Top 3!
I'm excited to see what happens next season and hope this great community keeps growing!
Top 16 Alchemists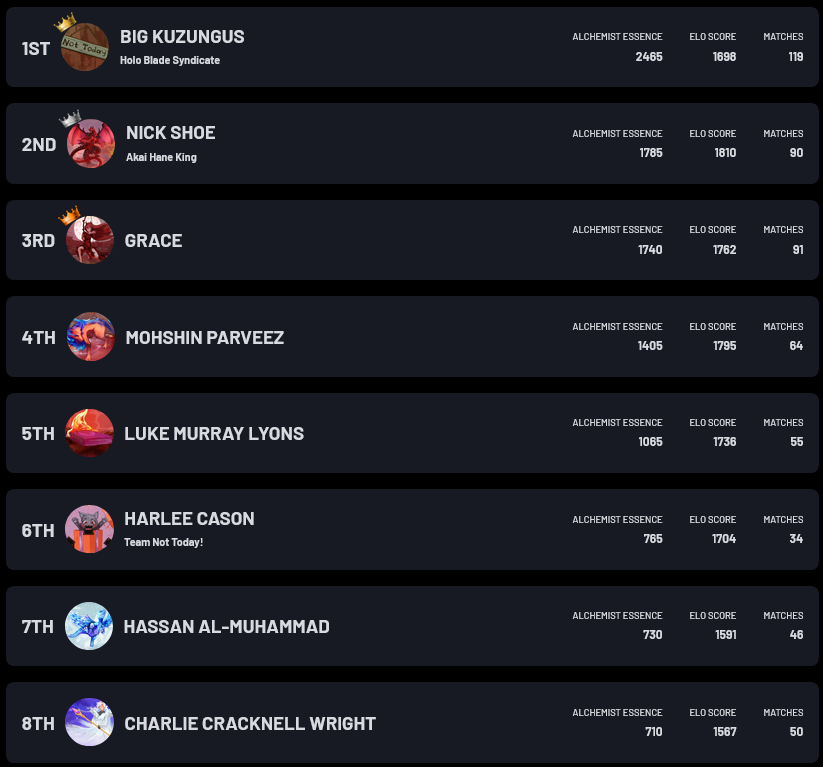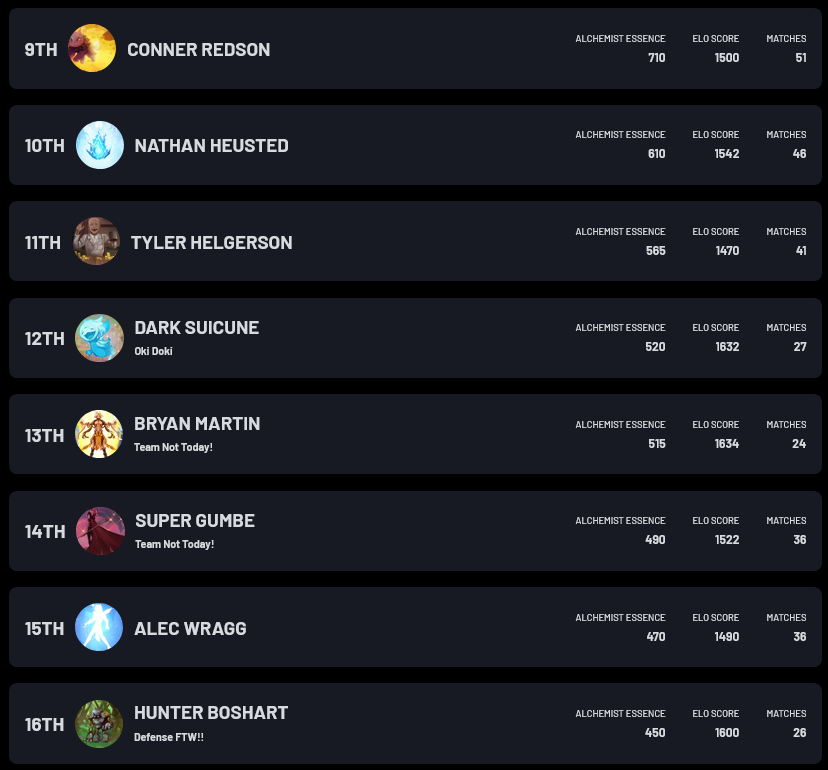 Season 3 Rewards
The prize cards awarded to our Top 16 Alchemists this season feature a brand new Akora, unlike any other that has graced the realms of Ikithia. This unique Akora, Zari, possesses a multitude of attributes that intertwine and meld into a mesmerizing display of power. Only the most skilled Alchemists had the opportunity to bind with this Akora.
Congratulations to the top 16 Alchemists who will now embark on an extraordinary journey bound with the magnificent Zari. May this moment ignite the flames of inspiration and pave the way for untold marvels and magical wonders that will shape the future of Ikithia.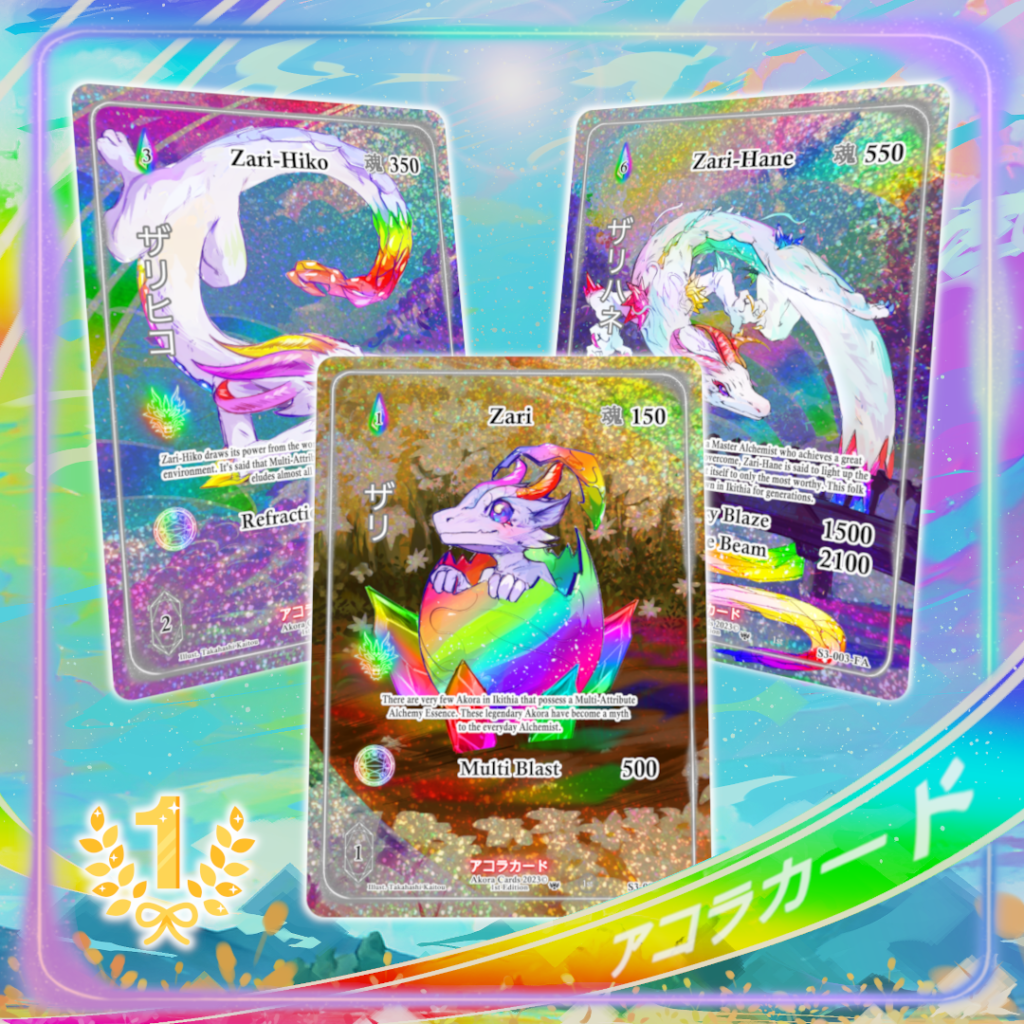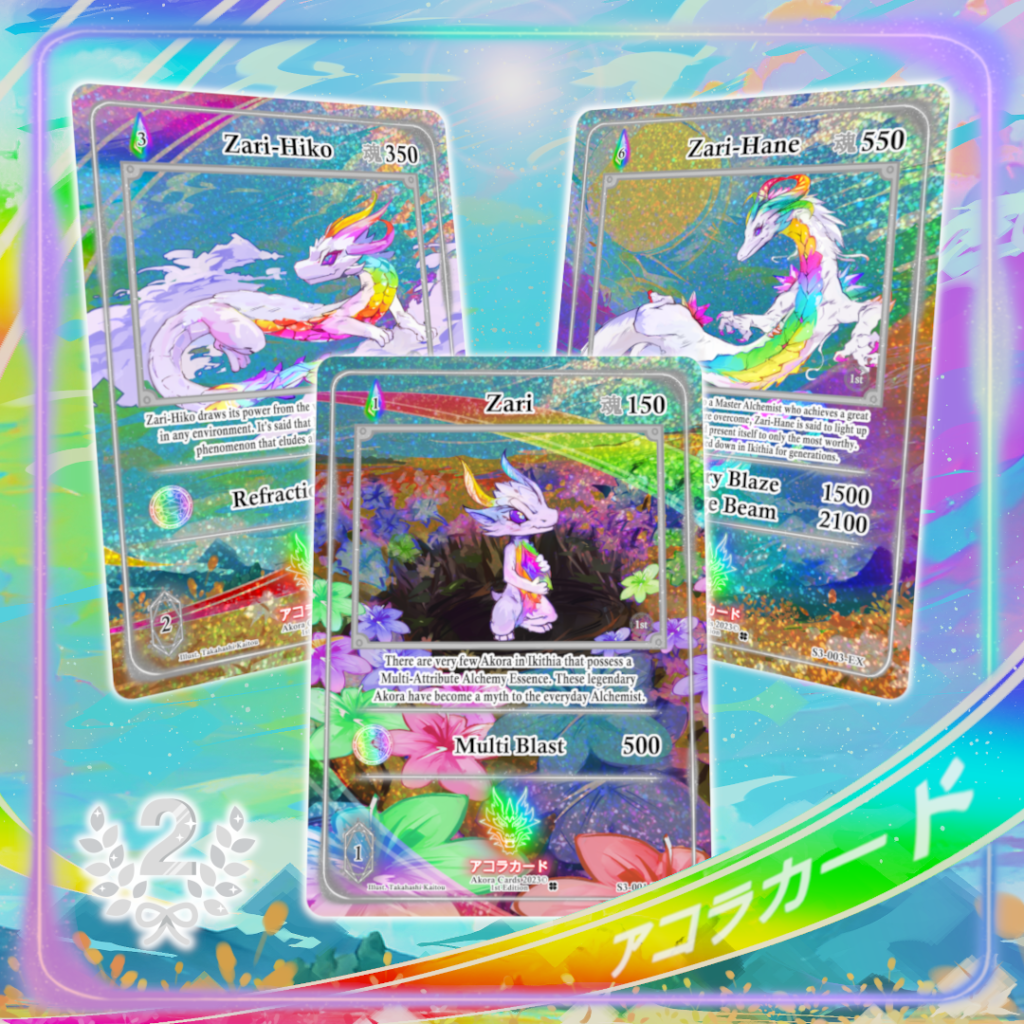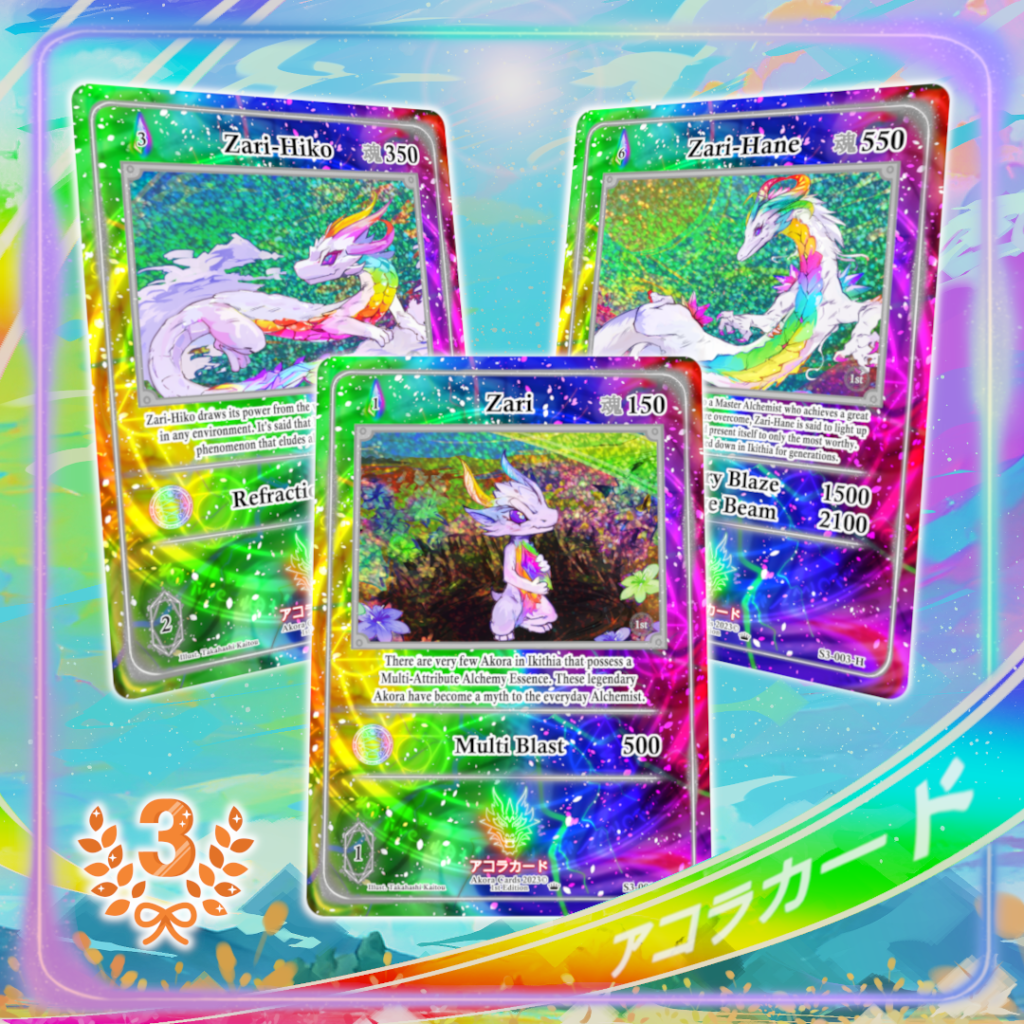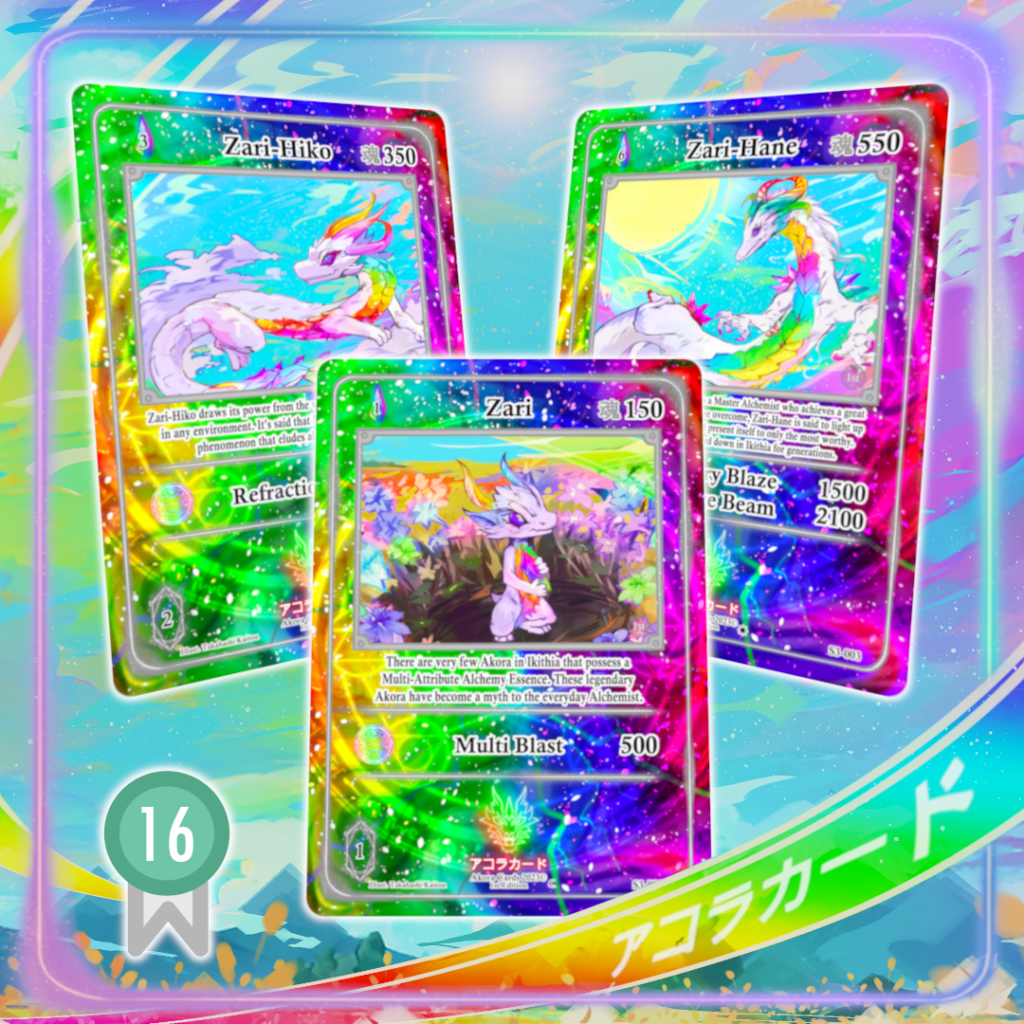 ---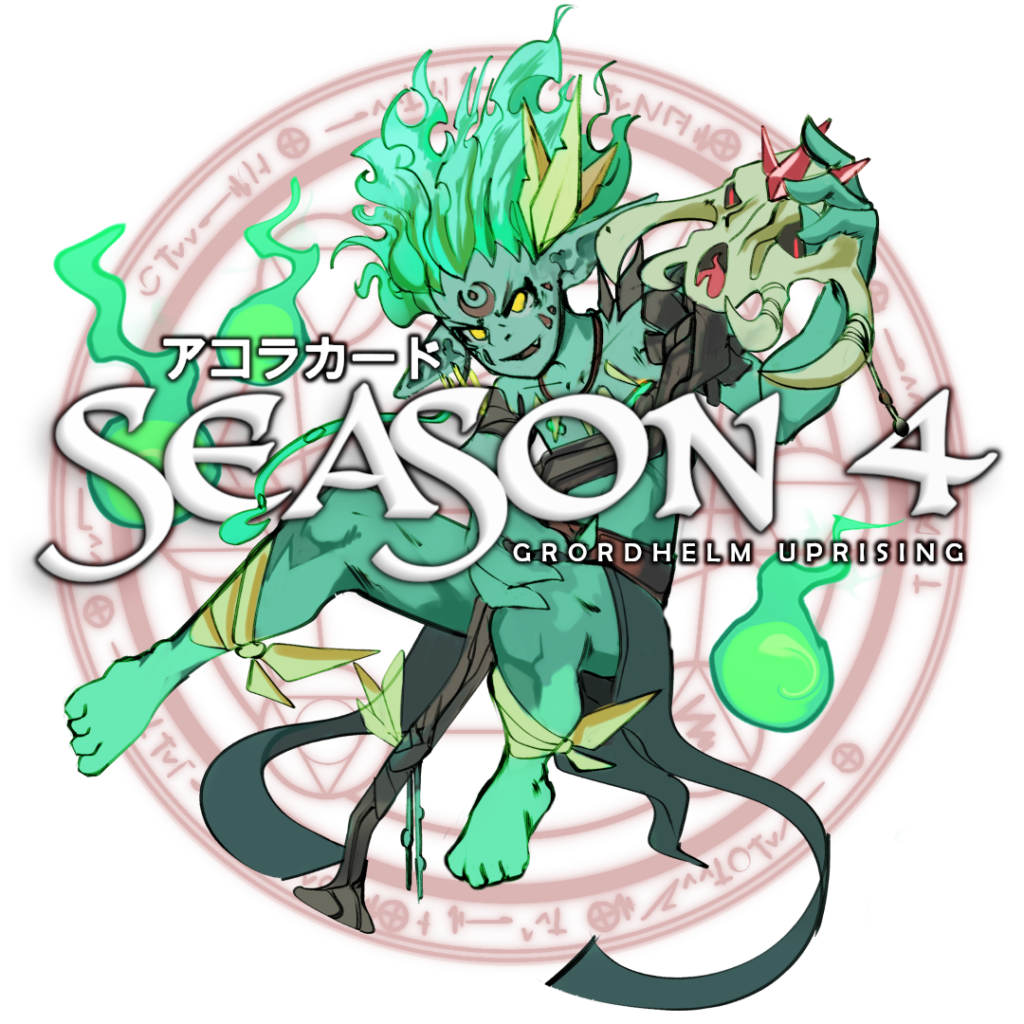 Stay Tuned For Season 4: Grordhelm Uprising
Coming May 26th, 2023
Follow along for more updates and information over the coming days!